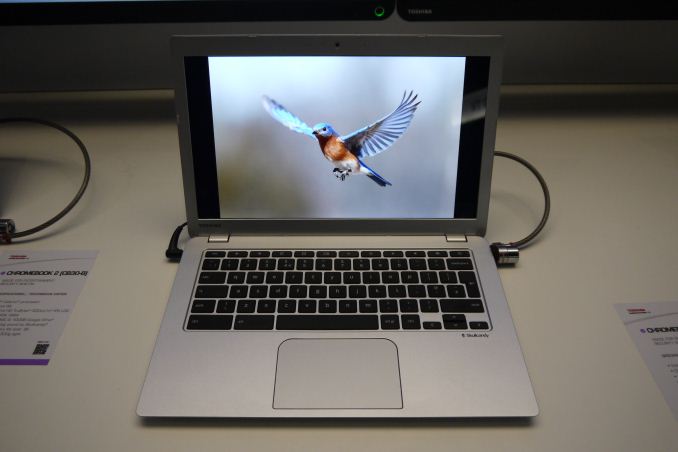 Expanding its Chromebook lineup, Toshiba is updating its original model by releasing the Chromebook 2. During my time with the device the most immediate difference on this new model is the display, as it now offers some very good colours and viewing angles. Toshiba now provides a 1080p IPS screen on the higher end model that is worlds apart from the screen used in their original Chromebook. Toshiba is planning to also offer a 720p matte screen display in a lower end edition, but this wasn't on display.
The specs are pretty modest; the Chromebook 2 comes with an Intel Celeron Bay-Trail processor which according to Toshiba may be subject to change due to device's later release date, so the exact model number was not provided. This creates a bit of anbiguity on how performant the final hardware will be. Main memory comes in at 4GB DDR3L at 1600MHz for the 1080p model, or 2GB for the 720p model. Toshiba advertises 11.5h and 9h usage times for the low end and high end model on a non-replaceable battery.
Connectivity is provided by 1x HDMI-out, 1x USB 2.0, 1x USB 3.0 (including Sleep-and-Charge), SD/SDHC slot, headphone/mic combo jack connectors, and a Kensington security lock. The device sports 801.11ac+agn WiFi capabilities with BT 4.0 and a HD webcam with dual microphones.
Toshiba representatives told me they tried to improve on the main issues their user-base reported on the predecesor model, which beyond the screen was also the form factor, and indeed the Chomebook 2 shaves off a lot of weight and size while still retaining the same 13.3" screen size.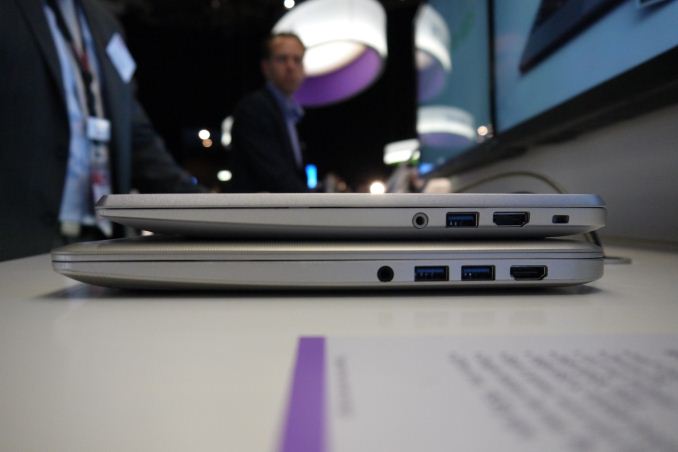 There was a noticeable lack of visible speakers anywhere on the device and that's because they were built-in into the device. The sound was quite acceptable for laptop speakers and plenty loud.
The Chromebook 2 isn't scheduled to be available until in Q1 2015 in Europe. While again Toshiba didn't comment on the price, I expect something similar to the current models which hover around 300€.