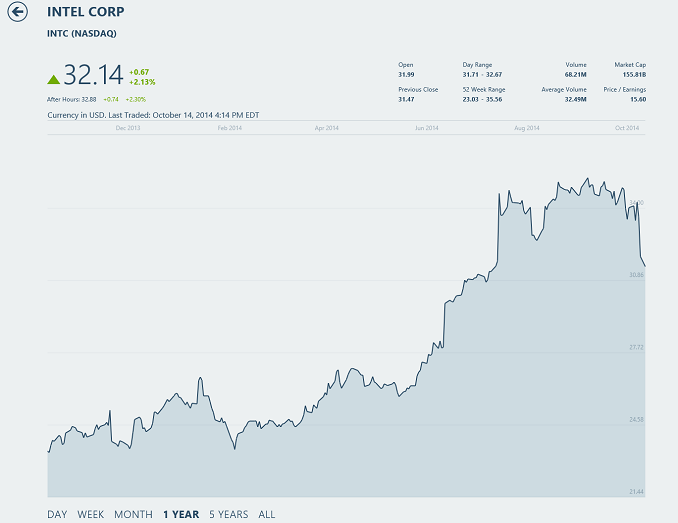 Today Intel released their financial results for the third quarter of their 2014 fiscal year, which ended September 27, 2014. Q3 was a record quarter for Intel, with the highest revenue in the company's history. Their major markets of the PC Client Group was up 9% year-over-year and the Data Center Group was up 16% year-over-year.
Earnings per share was up 14% compared to Q3 2013 at $0.66, beating analysts' expectations of $0.65. Year-over-year, revenue was up 8% at $14.6 billion, Gross Margin was up 2.6% at 65.0%, Operating Income was up 30% at $4.5 billion, and net income was up 12% at $3.3 billion.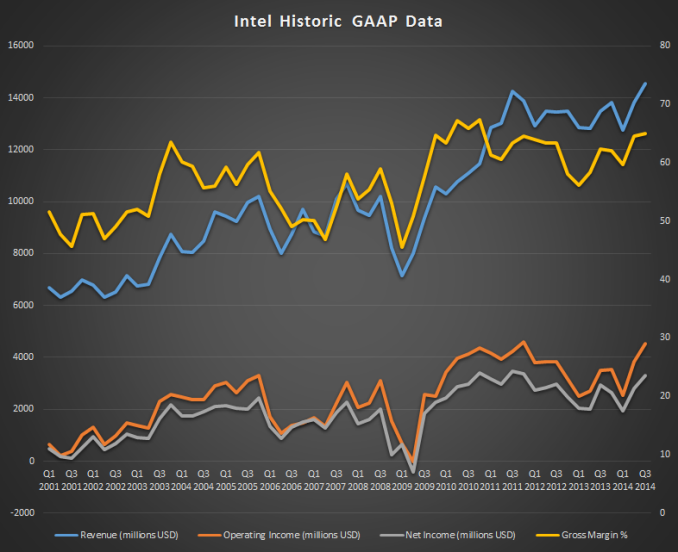 The PC Client Group, which includes all business related to desktops, notebooks, two-in-one systems, wired and wireless Ethernet (for the PC), home gateway, and set-top-box components, continues to be the largest division for Intel with $9.190 billion in revenue this quarter. For the first three quarters, the PC Client group has contributed $25.789 billion in revenue, up $1.1 billion over the same period a year ago. This group had an operating income for Q3 2014 of $4.120 billion, up from $3.243 billion last year. Q2 seemed to indicate that the PC market has bounced back, and these revenues and income from the PC division for Q3 indicate that the trend will continue. The volume of sales for the quarter were up 7% over last quarter, and up 15% year-over-year. At the same time, the Average Selling Price (ASP) was down 2% from last quarter and down 5% year-over-year. Notebook volumes were up 21% year-over-year with the ASP down 10%, and desktop volumes were up 6% with the ASP down 2%. Intel is forecasting Q4 revenue at $14.7 billion, plus or minus $500 million, so their expectations are that the PC industry will continue its rebound. For Q3, Intel continued to sell the 22 nm range of processors, but has started production of 14 nm Broadwell parts, with a modest increase in inventory which they will likely utilize to keep up with demand for the new parts. Clearly the 14 nm node was a challenge, with the 22 nm node now being the primary process for the last ten quarters, with the average length of time between nodes being 8.5 quarters, starting with the 130 nm process. Q4 looks to be exciting with a whole new type of device able to be created from the Broadwell processors. We should start to see actual devices for sale within the next couple of weeks.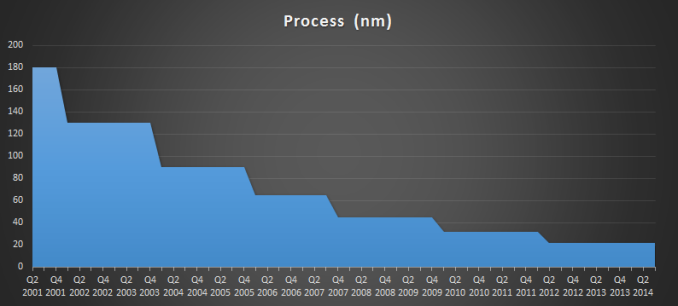 The Data Center Group, which is platforms for server, workstation, networking, and storage computing segments, was also up for Q3, with revenue up to $3.7 billion from $3.178 billion a year ago. Operating Income rose $395 million over Q3 last year to $1.915 billion. Unit volumes were up 6% year-over-year and sequentially, and the ASP was down 1% sequentially and up 9% over Q3 2013.
The Internet of Things group, which is a relatively new division focused on embedded platforms for retail, automotive, home, and transportation, had revenues for the quarter of $530 million, up 12% year-over-year. Revenues were only up $1 million over last year, with $153 million in revenue for this quarter.
The Mobile and Communications Group, which is the division responsible for platforms for tablet and smartphones, as well as mobile communications with baseband processors, RF transceivers, GPS, Wi-Fi, Bluetooth, and power management chips continued its slide for Q3. Revenues were down around 100% year-over-year, at a meager $1 million. This division is also responsible for the majority of Intel's losses, with a Q3 operating loss of $1.043 billion. For the nine months ended September 27th, this unit has lost $3.096 billion. Intel is pushing hard to drive adoption of its mobile processors, and they seem to be OK with losing money on them in the short term to gain the foothold for the future. We have seen a slew of low priced tablets packing Intel Bay Trail processors, including the HP Stream tablets and just recently a $65 tablet from Emdoor out of Hong Kong. It seems hard to believe that you can buy a Windows tablet for less than the cost to fill your tank with gas, but with both Intel and Microsoft dropping fees, you have to wonder how low things will go before they stop. Luckily for Intel, their strong performances in other segments allows them to be a loss leader in this category, and they must see the long term gain here by not just allowing ARM SoCs to rule the space.
The final division for Intel is the Software and Services segment, which includes McAfee which they acquired a few years ago, and the Software and Services Group which delivers products and services that promote Intel architecture as a platform for development. This unit had a slight bump in revenues, up $13 million over last quarter to $558 million, and operating income was up 97% at $29 million.
Intel Q3 2014 Financial Results (GAAP)
Q3'2014
Q2'2014
Q3'2013
Revenue
$14.554B
$13.831B
$13.483B
Operating Income
$4.918B
$3.844B
$4.910B
Net Income
$3.317B
$2.796B
$2.950B
Gross Margin
65.0%
64.5%
58.3%
PC Group Revenue
$9.2B
+6%
+9%
Data Center Group Revenue
$3.7B
+5%
+16%
Internet of Things Revenue
$530M
-2%
+14%
Mobile Group Revenue
$1M
-98%
-99.7%
Software and Services Revenue
$558M
+2%
+2%
All Other Revenue
$558M
+2%
+2%
Q4 expectations are for revenue to increase slightly to $14.7 billion, plus or minus $500 million and Gross Margin will be 64%, plus or minus a couple of points. With Broadwell soon to be shipping to consumers, Intel is clearly expecting another record quarter. It is great to see the PC market recovering, and one has to wonder to what level it will continue. The expectations of the tablet replacing the PC seem to have subsided for the moment, due to a slump in overall tablet sales. With Broadwell now shipping, we will of course anxiously await Skylake, which will be the new Core architecture available on 14 nm, and the Cherry Trail Atom chips which will also use the new node.
This was a pretty bullish quarter for Intel, which is generally a good indicator of the overall PC market. They still have their work cut out for them in the mobile segment, but with the other divisions pulling in great revenue and margins, they seem to be content to play the long game on what is certainly a very important segment for the future.
Source: Intel Investor Relations