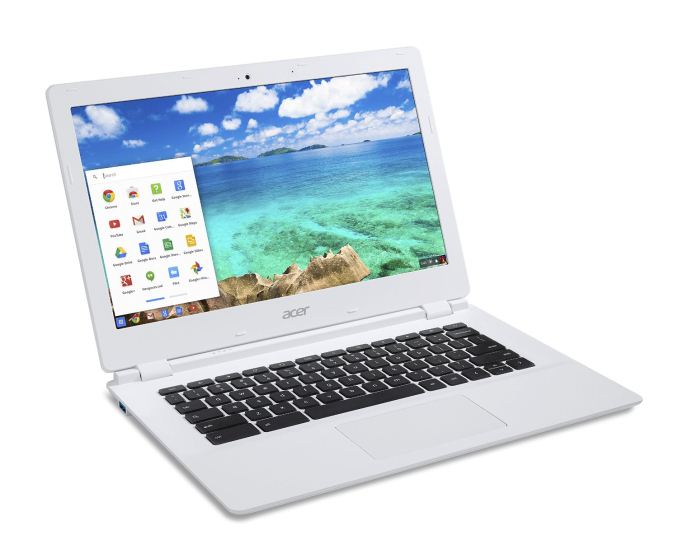 If you want something more than a tablet, the cheapest options are undoubtedly Chromebooks. These are basically the least expensive laptops you can find, and while we're working on other guides for Windows laptops, we're going to start with Chromebooks. The latest iteration of Chrome OS has true multitasking, more apps, and there are more Chromebook options than ever before, often starting at less than $200. But which one is best?
A Short Overview of Current Chromebooks
Alphabetically, there are current Chromebooks for sale from Acer (C720, C720P, and the new 11/13), ASUS (C200, C300), Dell (11), HP (11/14 and 11/14 G3), Lenovo (N20P), Samsung (Chromebook and Chromebook 2), and Toshiba (Chromebook and Chromebook 2). There's also the Chromebook Pixel, but that's nothing like a budget laptop so we won't discuss that here. The names however don't tell you much about the internal hardware.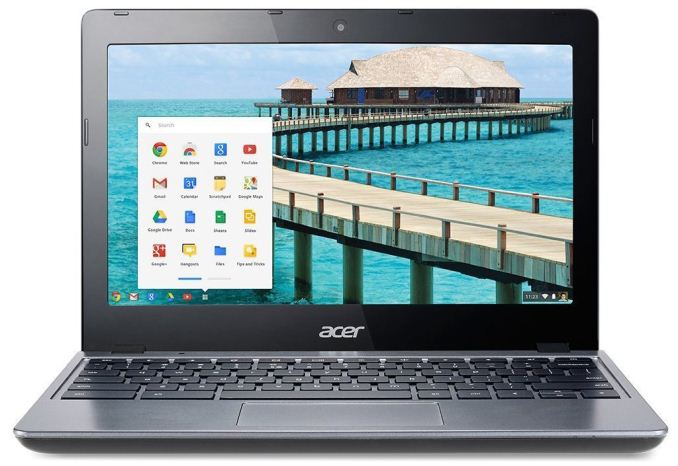 Starting at the top, Acer's C720 is basically the incumbent other companies have to beat, as the combination of a Haswell Celeron processor (2955U) and the sub-$200 price point gives potential buyers just about everything they might want. Amazon currently has it on sale for $179, and it's still easy to recommend even more than a year after launch. The 32GB model isn't really worth the $50 ($70 right now) price premium in my book, as a 32GB SDHC Card costs a lot less and offers basically the same functionality. Similarly, there's a model with a Core i3-4005U for $350 (again, not worth it in my opinion). The newer C720P also adds a touchscreen and comes stock with 32GB storage, with 2GB and 4GB RAM options, but the $100 premium for the 2GB model is too much (and nearly $400 for the 32GB + 4GB RAM option is out of the question).
Acer has two newer Chromebooks as well, the Chromebook 11 (11.6" 2GB Bay Trail N2830 with 802.11ac) is a $199 Best Buy exclusive, while the Chromebook 13 (13.3" 2GB Tegra K1 with 802.11ac) is on sale for $233 at Amazon.com. There's another variant of the 13 that includes a 1080p display, 4GB RAM, and 32GB of eMMC that retails for $380. While the TK1 and N2830 CPUs are both generally slower than the Celeron 2955U, at least the graphics in the TK1 is faster than Intel's GPU; unfortunately, finding places where having the faster GPU is truly useful can be difficult. I personally like the 13.3" screen and form factor, as it gives my fingers a bit more room. Finally, the CB13 is also fanless and being able to get 13 hours of battery life (11 on the 1080p model) makes the CB13 the top Chromebook in terms of battery life.
ASUS uses the Intel Celeron N2830 with 2GB RAM and an 802.11ac WiFi solution, with the Chromebook C200 using an 11.6" display while the Chromebook C300 has a 13.3" display (both are 1366x768). Both ASUS offerings come in two variants, the less expensive is currently on sale for $199 and has 2GB RAM and 16GB internal eMMC storage, while the upgraded model has 4GB RAM and 32GB eMMC storage and is currently on sale for $249. (Both are $50 off during Black Friday week, it seems.) They're also available in a variety of color options, which can be an added bonus if you want something a bit less staid.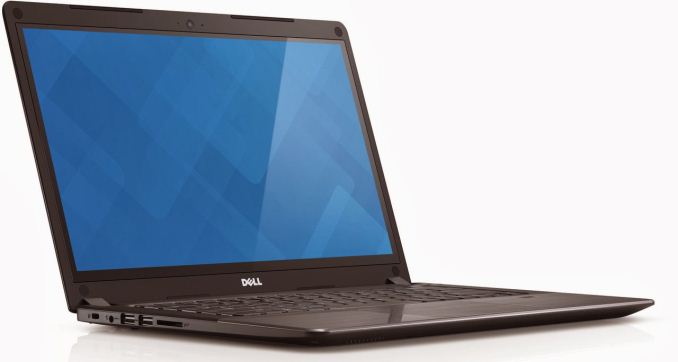 Dell's Chromebook 11 continues the trend of offering 11.6" displays, and it ends up being very similar to the Acer C720 (Celeron 2955U with 2GB RAM and 16GB eMMC). It costs $279 on sale, with an option for an upgraded Core i3-4005U and 4GB RAM for $379 (on sale). The added cost probably isn't worth it for what is otherwise a standard Chromebook configuration; build quality on the Dell Chromebook 11 however is a bit nicer than some of the other options.
HP has been doing Chromebooks for a while, as reflected in the naming of their Chromebook 11 G3 and Chromebook 14 G3. The previous generation of HP Chromebooks is also available, but I'd give them a pass at this stage. The new models feature the Celeron N2830 in the CB11 and the Tegra K1 in the CB14, with the ubiquitous 2GB/16GB RAM/storage configuration and prices of $246 and $270, respectively.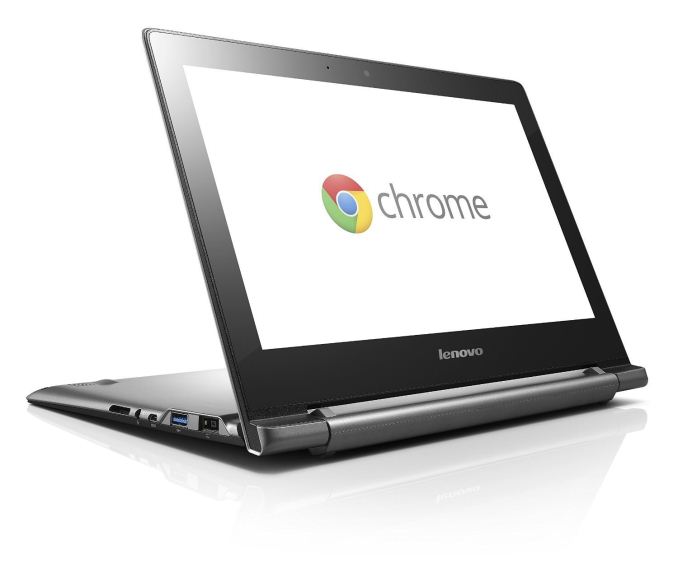 The Lenovo N20p has something unique to offer, in that it borrows a bit from the Yoga line and features a 300 degree hinge that allows the device to function as either a standard laptop or in "stand" mode. The N20p also features a 10-point touchscreen, though the remaining specs are similar to other Chromebooks: Celeron N2830 CPU, 2GB RAM, 16GB eMMC storage. Pricing is also a bit higher than the competition, with the N20p currently on sale at Amazon for $310, but this is the least expensive touchscreen Chromebook right now.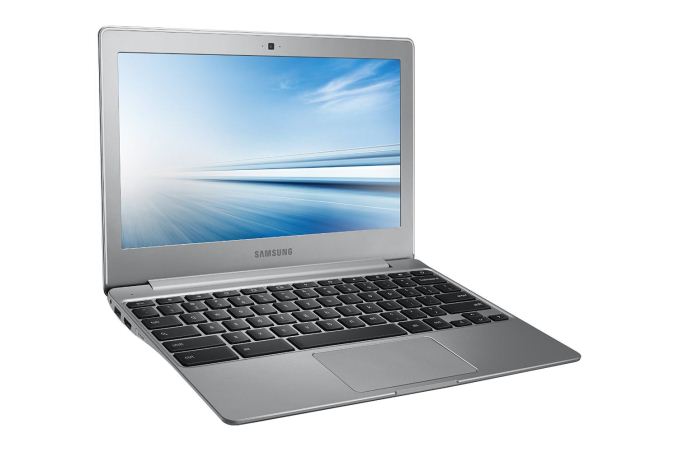 Samsung has two Chromebook options right now, the 2012 model Chromebook with an Exynos 5250 is well past its prime and the price of $209 doesn't really help, while the newer Chromebook 2 is $230 and comes with a Celeron N2830 processor. Both models feature 11.6" displays, 2GB RAM, and 16GB eMMC storage. (And yes, I feel like a broken record.)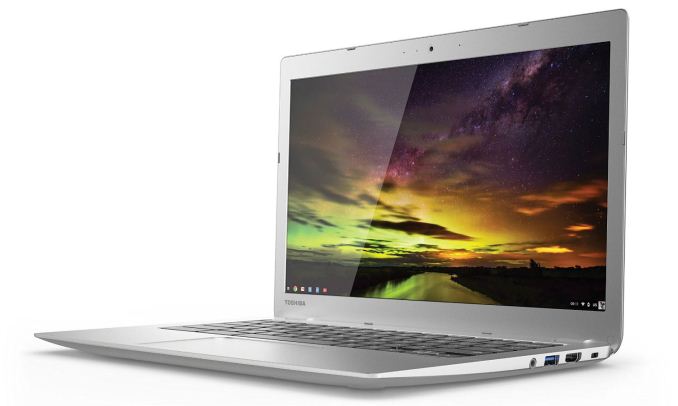 Last but not least is Toshiba, with two models as well – old and new. The earlier model Chromebook has a Celeron 2955U processor while the Chromebook 2 has a Celeron N2840 (which is the same as the N2830 except the maximum Turbo is 2.58GHz instead of 2.41GHz). Both models have 13.3" displays with 2GB RAM and 16GB storage (again), though there's an upgraded version of the newer model with 4GB RAM and a 1080p display. Prices are $260 for the original and $249 for the new revision, or $329 for the 4GB version that has a 1080p IPS display.
Picking the Winners
I don't think I'd go so far as to call any of the Chromebooks "bad", though a few are certainly priced higher than I'd be willing to pay. It's also a bit difficult to say any are "great", with poor quality LCDs and generally low-end components, but they are certainly inexpensive. There are many similarities among the various Chromebook models, with a few that stand out as better options mostly thanks to a combination of pricing and/or features.
I've spent a fair amount of time with both the Acer Chromebook C720 and the new Acer Chromebook 13, and both deserve recommendations for different reasons. With the current sale price of $180, if you're not sure if a Chromebook is right for you, the base model C720 is a great starting point. It's the least expensive option and it actually works quite well. In many tasks the Celeron 2955U in the C720 is still faster than newer Chromebooks with Bay Trail or Tegra K1, thanks to its Haswell architecture, and I can pretty much guarantee that if you're not happy with the Chrome OS experience on the C720 a different Chromebook isn't likely to change things.
The Acer Chromebook 13 on the other hand delivers the most battery life and thanks to the Tegra K1 it's fanless; the overall design is also quite attractive with the eggshell white chassis. The price is also lower than the competiting HP Chromebook 14 that also has TK1, giving Acer the win. The TK1 also packs more graphics processing power than other options, though this mostly ends up being a minor benefit as there aren't a lot of games for Chromebooks right now. I believe the TK1 is also the only Chromebook processor certified for HD Hangouts, if that's a draw for you.
The ASUS C200 and C300 warrant a mention as they offer 4GB RAM and 32GB storage for just $249. The added storage isn't extremely important but it can be useful, while the doubling of RAM helps keep Chrome from swapping tabs out of memory as often. Then you can decide between a larger or smaller Chromebook, with no price penalty for going either direction. And if you want a touchscreen, Lenovo's N20p has a 300 degree hinge at a reasonable price.
The one Chromebook in the list that has a decent display is the upgraded Toshiba Chromebook 2, which sports an IPS panel. That's great to see, but there's still that question of price. On a high quality laptop I'd be more than willing to spend over $100 extra to get a quality display, but on a Chromebook? We're basically looking at a 50% increase in the total cost just for the improved display, and that's a tough pill to swallow on what is otherwise a clearly budget-oriented platform. It's obviously not in the same league of wrongness as the Chromebook Pixel, and I'd love to see all TN panels just go away, but it ends up as one of the more expensive Chromebook options. If you're happy with Chrome OS and want one of the best designed Chromebooks, this is the one to get; just be preparted to pony up.
Of course the others are all close enough that if you can get any of them at a competitive price, they're going to be about as good as any other Chromebook. It's the old adage: "there are no bad products, just wrong prices". We're also looking at a relatively narrow price range of $200 to $300, and if you're willing to pay more for a Chromebook where you like the looks more, you can certainly do so.
Chromebook Considerations
Wrapping things up, the question has to be asked: can you live with a Chromebook as your primary laptop, or would something like an HP Stream be a better option? It's important to understand precisely what it is you're getting with a Chromebook. There are limitations inherent to Chrome OS, and while you can work around some of them, others are basically just the way things are.
As an example, I recently spent a few hours trying to do some mundane spreadsheet tasks using Google Spreadsheets on a Chromebook instead of using my usual Windows laptop, and let me tell you: it was an exercise in frustration. Something I could have done in 15 minutes using Excel ended up taking me over an hour. Reading the web, this is hardly an isolated incident; things have improved since Chrome OS first launched, but there are still a lot of rough edges to the experience.
There are counter examples as well. I have a daughter in middle school that uses a Chromebook for her classes on a regular basis, and she hasn't ever complained about missing features – it's what she's been taught to use, and it fits the requirements of the school district. And sometimes, that's all you really need from a laptop. There's also the benefit of not dealing with virus infections and malware, though that tends to be more for others than for tech savvy folks in my experience; still, not having to help your dad/mom/grandparents/etc. fix a virus problem again is a nice perk.
Of course you can always use Chrome Remote Desktop with another PC to basically get a lightweight and inexpensive way to work with your home PC while on the road. And it can surf the web natively and handle light office and email duties as well. Google has also demonstrated Android apps running natively on Chrome OS, and there will apparently be an increasing number of supported apps in the future.
As is often the case, what it really boils down to is a question of compromise. Chromebooks are not the fastest or best built laptops, but they can boot up the OS and get you on the web far faster than any other $200 class laptop. You also have access to all your tabs and shortcuts if you move between computers, though using the Chrome browser on any PC or tablet basically gives you that same functionality.
What you're really getting with a Chromebook is an alternative to a moderate tablet that has the benefit of providing full keyboard functionality while being quite a bit bulkier than any tablet. But if you're typing anything more than a few sentences that's a tradeoff I'd personally be more than happy to make. Then again, I'd much rather have full Windows laptop functionality.