GIGABYTE X99-Gaming G1 WIFI In The Box
Gaming motherboards, as we have mentioned repeatedly over the years, have a tough task on their hands. They need to provide an experience in line with the brand philosophy, but also be price sensitive in terms of hardware and bundling. As a gaming motherboard benefits from research into new features it arguably puts pressure on the bundle contents in order to reach a price point. Because the X99.Gaming G1 WIFI has so much in terms of additional features it might be prudent to expect little in the box. However, as this is aimed at the multi-GPU crowd it complements the $340 on Newegg pricing with the following:
Driver Disk
Manuals
Rear IO Shield with built-in LEDs
Six SATA Cables
2T2R WiFi Antenna
Flexi 2-way Crossfire Bridge
Flexi 2-way SLI Bridge
Rigid Short 3-way SLI Bridge
Rigid Long 3-way SLI Bridge
Rigid 4-way SLI Bridge
1-to-3 Power Cable (2x4 ATX 12V)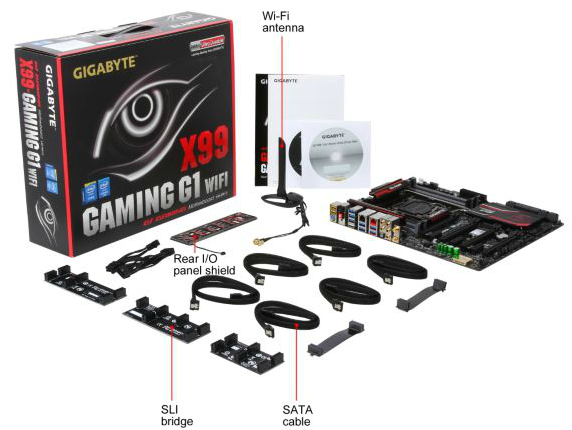 The addition of the CrossFire cable is fairly rare in motherboard packages, and is welcome despite AMD's movement away from them. It will still take at least one more generation to remove the need for them completely however.
Many thanks to...
We must thank the following companies for kindly providing hardware for our test bed:
Thank you to OCZ for providing us with PSUs and SSDs.
Thank you to G.Skill for providing us with memory.
Thank you to Corsair for providing us with an AX1200i PSU.
Thank you to MSI for providing us with the NVIDIA GTX 770 Lightning GPUs.
Thank you to Rosewill for providing us with PSUs and RK-9100 keyboards.
Thank you to ASRock for providing us with some IO testing kit.
Thank you to Cooler Master for providing us with Nepton 140XL CLCs.
Test Setup
GIGABYTE X99-Gaming G1 WIFI Overclocking
Experience with GIGABYTE X99-Gaming G1 WIFI
Both the software and the BIOS offers options from 3.7 GHz to 4.1 GHz in 200 MHz increments for our i7-5960X. Compared to some other motherboard offerings, these values should be hit by all CPUs and is somewhat conservative - perhaps a 4.3 GHz option might stoke the fire a little. We also have an energy saving mode (1.2 GHz constant) and an auto-overclock mode that attempts to find the best overclock. This part of the package requires flash, but the process is automated without letting the user define the maximum voltage/temperature or how strenuous the tests have to be.
For manual overclocking we used the BIOS in classic mode, starting at 3.5 GHz and 1.000 volts. Our final result was 4.3 GHz peak with 4.2 GHz under 75ºC during a mixed AVX load. Due to the testing of this motherboard, we were unfortunately between CPUs and only had our limited sample that has trouble hitting 4.4 GHz in any motherboard, so by that measure the X99-Gaming G1 WIFI gave the CPU a good run.
Methodology
Our standard overclocking methodology is as follows. We select the automatic overclock options and test for stability with PovRay and OCCT to simulate high-end workloads. These stability tests aim to catch any immediate causes for memory or CPU errors.
For manual overclocks, based on the information gathered from previous testing, starts off at a nominal voltage and CPU multiplier, and the multiplier is increased until the stability tests are failed. The CPU voltage is increased gradually until the stability tests are passed, and the process repeated until the motherboard reduces the multiplier automatically (due to safety protocol) or the CPU temperature reaches a stupidly high level (100ºC+). Our test bed is not in a case, which should push overclocks higher with fresher (cooler) air.
Overclock Results