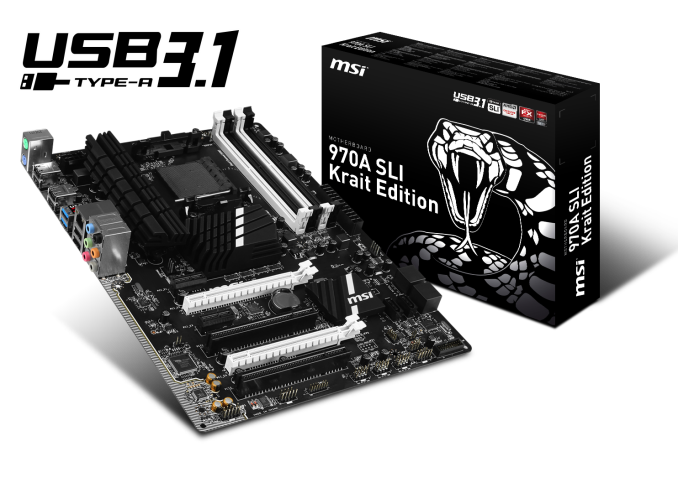 The motherboard market is now laying down some heavy USB 3.1 marks in the sand. We saw motherboards at CES, then immediately followed that with some testing on the MSI X99A Gaming 9 ACK due to its integrated ASMedia controller. ASRock then announced USB 3.1 cards and integrated motherboards, followed by ASUS providing us with a USB 3.1 card and dual mSATA USB 3.1 enclosure for testing. The X99 mini-ITX motherboard with USB 3.1 was a bit of a surprise, but MSI's release announcement today is just as off-the-wall. Following on from the popular SLI Krait line of motherboards in a black and white livery, the 970A SLI Krait Edition will have two USB 3.1 Type-A ports along with support up to AMD FX-8000 series processors.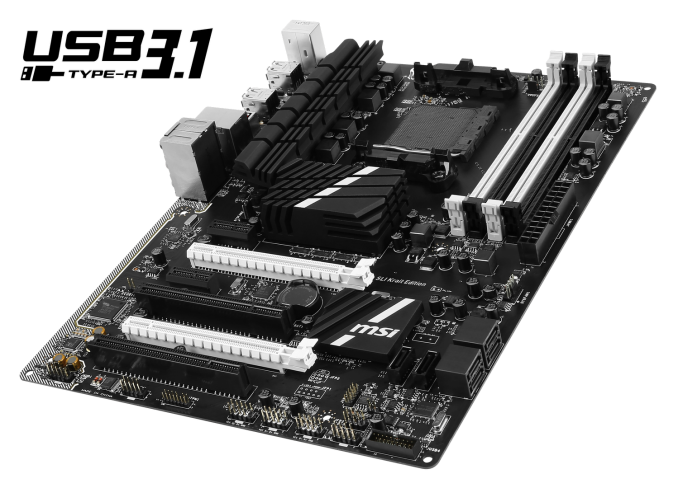 We recently reviewed both the FX-8370E and FX-8320E processors from AMD, with the latter focused more on the 970 chipset due to the price and position within the processor stack. This motherboard is aimed squarely at the 8320E, and typically 970 series motherbaords are not engineered for the 220W FX-9000 series, which allows MSI to spend those saved costs on the ASMedia USB 3.1 controller.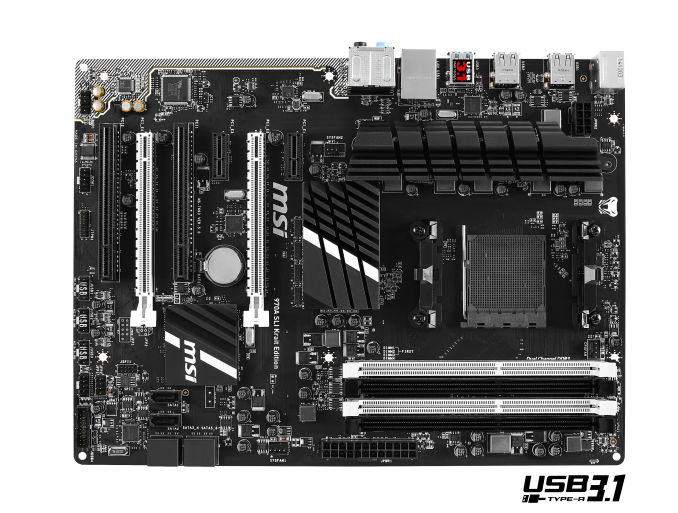 The 970A SLI Krait Edition allow claims to support multi-GPU setups, both CrossFire and SLI, with the PCIe slots in white. MSI's press release also went to mention that their new GPUs in black and white are suitable to synchronise design for gamers that want to do so - we saw black and white GPUs from MSI back at CES. The rest of the specifications give two PCIe 2.0 x1 slots, two PCI, six SATA 6 Gbps that are RAID 0/1/5/10 capable, an Ethernet port, an internal USB 3.0 header and support for DDR3 up to 2133 MHz. Audio is provided by a Realtek ALC887 codec.

No pricing or exact regional release dates are available as of yet. The product page can be found here.
Source: MSI