Today is the Microsoft Worldwide Partner Conference, and one of Microsoft's biggest partners over the years has been Citrix. I got a chance to speak to Citrix about their support plans for Windows 10, and Citrix is making a big commitment to help their customers with the transition to not only a new operating system, but a new app platform as well.
Citrix has received a lot of feedback from their partners over Windows 10, and the feedback has been positive. The Start Menu return is a big win for the enterprise as well as the consumer, and Citrix is aware that the free upgrade offer for Windows 10 from any genuine Windows 7 or Windows 8.1 device is going to help drive adoption. The traditional enterprise will not benefit from this free upgrade of course, but with the consumerization of IT over the last several years, Citrix wants to be ready to support organizations where the end user brings in their own device, rather than the traditional model of IT controlling the desktop. Since consumers will benefit from the free Windows 10 update, any organizations that do BYOD (bring-your-own-desktop or laptop) need to be ready. To support this, Citrix will have its Citrix Receiver for Windows 10 available on July 29th – the same day Windows 10 ships.

For those unfamiliar with the Citrix Receiver, it allows organizations to stream applications or entire virtual desktops using XenApp and XenDesktop. Clients install the receiver, and assuming they have network access to their corporate LAN they can access all of their applications or entire desktops through a streaming session. This keeps the corporate data off of the end device, allowing better data security especially when these devices are not owned by the corporation.
The Receiver will also be getting an update to make it a Windows Universal App, which will allow it to free form to whatever device type or usage model is being implemented at any time. On a Surface Pro for instance, it can change itself into a tablet mode when the keyboard is removed just like other Windows apps. This won't be shipping on day 1 since Citrix needs to wait for the official Software Development Kit in order to complete the project, but look for it soon.
For those that are looking into migrating to Windows 10 at some point in the future, Citrix has updated their AppDNA application to support Windows 10 as well. It will be able to examine an application and determine if it will support Windows 10, and if minor changes are required it can even perform the changes itself. Those that test poorly will have to be assigned to a developer to make further changes. AppDNA will be ready to allow porting of applications to Windows 10.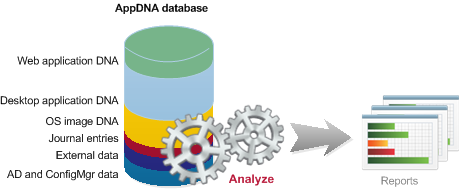 AppDNA is part of the Citrix XenApp and XenDesktop Platinum line, but will be made available free of charge for one year to all of Citrix's partners so that they can assist any clients with migrating apps over to Windows 10. It works on traditional applications or web applications. Normally the service starts around $350 per user per year. Partners will of course still be allowed to charge for their services, but this should make it much less expensive to get off the ground. XenApp is a full lifecycle app as well, which can be used by the end clients to manage the app going forward. I was told this was a very successful tool in helping clients migrate to Windows 7.
Their third big announcement on the VDI front is that Citrix is releasing a tech preview of the Windows 10 Virtual Delivery Agent, which is the component which allows you to deliver Windows 10 images via XenDesktop. This is available now allowing partners to begin testing Windows 10 for VDI deployments ahead of the official Windows 10 release. With yet another major OS upgrade, Citrix is hoping the time is right to do a virtual desktop delivery now rather than yet another physical rollout.
Although not part of this release, I was told that all of the other Citrix products such as ShareFile, GoToMeeting, and the rest, will also be available for Windows 10 on day one.
One thing that has not been possible up until now has been to use XenApp to deliver a Windows Universal app through the receiver, however I have been told that this will be possible with Windows 10. With Windows 8.1's sandbox, the only apps which could be streamed were Win32 applications and not WinRT. Citrix is obviously seeing that the new store model is one that people and companies have embraced, and have worked to support this in Windows 10. I look forward to trying this out.
Source: Citrix